Bottled Potential
At the inaugural NIGHT\SHIFT festival on November 2 nd , 2013, event organizers looked saw room to expand on a particular contribution from the local community. A group of grad students representing the University of Waterloo's Water Institute had created an exhibit aimed at provoking locals to reconsider how they use and dispose of plastic water bottles. The main focus of their contribution to NIGHT\SHIFT was an illuminated fish – affectionately named 'Swiggy' – made from bottles collected on uWaterloo campus.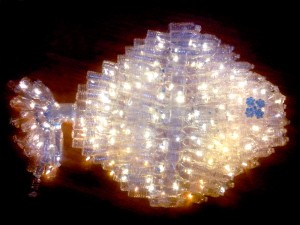 Downtown Kitchener's second annual nocturnal community building festival will feature an even bigger, bolder statement led by the same group, aka SWIGS . Our plan is to create and illuminate a giant turtle, a jellyfish, an octopus and a stingray and install them at Kitchener City Hall on Saturday, November 1st, 2014! Our goal is to use the gorgeous enormity of these Creatures of the Gyre to ignite discussion about the environmental consequences of choosing single-use plastic water bottles.
We need to collect at least 10,000 intact plastic bottles of all shapes and sizes for this project. We're currently collecting bottles on uWaterloo, WLU and Conestoga College campuses, at random #kwawesome events and by raiding recycling bins at workplaces, apartment buildings and on random curbsides. We'd love to involve our community in producing this marquee attraction at the 2nd annual NIGHT\SHIFT.
So, we're curious: Are there uncrushed plastic bottles that you could collect and donate? Do you live in a building or work at a business where you would be willing to raid recycling bins for a few weeks? Do you have other ideas about contributing to this project?
Beyond plastic bottle donations, other ways to get involved in producing the Creatures From the Gyre installation during NIGHT\SHIFT include…
— Bottle collection: Do you have a cargo van, pickup truck or bicycle trailer that you could contribute to picking up bottles and delivering them to our storage space?
— Design and construction teams: Do you want to help assemble the materials for making huge aquatic creatures and/or put time into building them? (Related to that: Do you mind helping us wash a whole bunch of bottles ?)
— Assembly/tear-down crew & installation ambassadors: Are you interested in helping bring these plastic bottle sculptures to life during the festival, and to sharing their story with other NIGHT\SHIFT explorers on Saturday, Nov. 1st?
Please don't be shy: [email protected] .