NIGHT\SHIFT Placehacking Festival is downtown Kitchener's annual nocturnal art crawl, featuring pop-up art and performance, participatory creativity and impulsive community building.
NIGHT\SHIFT empowers mostly Waterloo Region-based artists, makers, entrepreneurs and organizations to reimagine downtown Kitchener venues with multidisciplinary visual and performance art, bright ideas and mind-opening interaction. The festival enlists both artists and citizens from various subcultures to experience reanimated pockets of their built environment, share rare communal experiences, and spark unexpected collaborations. 
During its first three instalments in 2013, 2014 and 2015, Night\Shift has paid more than 300 artists to produce nearly 100 pieces of programming, all of it presented for free within a walkable area of downtown Kitchener. Each version of the festival has attracted an audience of thousands to people, and Night\Shift was named Best New Festival by the Waterloo Region Arts Awards in June 2015.
The festival was launched in 2013 by Eric Rumble (then editor-in-chief of Alternatives Journal, which funded the first instalment as a marketing experiment) and incorporated as a federal non-profit organization in August 2015. NIGHT\SHIFT culminates on the evening of the annual autumn time change – in 2016 that means the festival peaks on Saturday, November 5th!
NIGHT\SHIFT attractions, activities and gleeful occupations are are spread throughout various indoor and outdoor locations in downtown Kitchener – small and large businesses, cultural institutions and cafés, public and private spaces, parks and parking lots, lane ways and streets.
Recent blog posts
Get the free Night\Shift 2016 map app!
Plan your own nocturnal adventure at the 2016 Night\Shift Placehacking Festival by pocketing this free app for Apple of Android devices, created and launched by Bunjee App.
\
\\
\\\
\\\\

Peeking Into the DTKreAXE Keyhole
Behind the scenes of turning old acoustic guitars into something else entirely \\ by Emily Shelton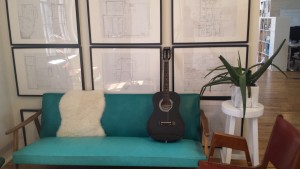 AS THE DAYS GET colder, night falls sooner. And as the evening when the clocks roll back gets closer, the deadline for readying contributions to Night\Shift approaches quicker and quicker.
Under the glow of post-work fluorescence, teams from 10 tech firms are still chipping away. Perhaps there are blueprints strewn across a boardroom table, or they've set up makeshift crafting stations, or there's a spirited debate over what direction to take. 
Are they workaholics? Night owls?
Not quite. The architects behind the DTKreAXE project will soon reveal their reimagined retired guitars at KPL's central branch for #NightShift16. (more…)
Remixing The Guitar \\ #DTKreAXE
Small teams from 10 tech companies based in Waterloo Region were given well-used guitars and simple instructions to reimagine them using whatever ideas, materials or themes they wanted to. Using their creative capacities and technical know-how (and cranking both up to 11), the resulting collection of remade axes will be assembled into one of Night\Shift 2016's marquee installations: the #DTKreAXE exhibit at KPL's central branch.
Worlds will collide. Sparks will fly. Familiar wooden forms will be reborn.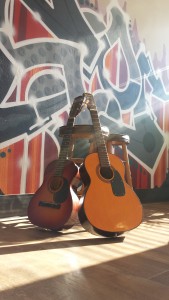 The project's unlikely guitar remaking heroes include teams of people from Vidyard, NetSuite, Plasticity Labs, Lani, InkSmith, Bridgit, Communitech, InTheChat, Accelerator Centre & Sortable.
The guitars have been donated by Bob's Guitar Service – unsalvageables from 2015's 100 Guitars for 100 Kids campaign – and their inspiring remakes will be on display together in KPL's main lounge during the entire month of November 2016. The DTKreAXE exhibit opening will take place during #NightShift16 on Saturday, November 5th and will feature live guitar music by the great Jennifer Castle and others, plus the chance for festival-goers to help communally redecorate a few more retired acoustic bodies. (more…)