NIGHT\SHIFT Placehacking Festival is downtown Kitchener's annual nocturnal art crawl, featuring pop-up art and performance, participatory creativity and impulsive community building.
NIGHT\SHIFT empowers mostly Waterloo Region-based artists, makers, entrepreneurs and organizations to reimagine downtown Kitchener venues with multidisciplinary visual and performance art, bright ideas and mind-opening interaction. The festival enlists both artists and citizens from various subcultures to experience reanimated pockets of their built environment, share rare communal experiences, and spark unexpected collaborations. 
During its first three instalments in 2013, 2014 and 2015, Night\Shift has paid more than 300 artists to produce nearly 100 pieces of programming, all of it presented for free within a walkable area of downtown Kitchener. Each version of the festival has attracted an audience of thousands to people, and Night\Shift was named Best New Festival by the Waterloo Region Arts Awards in June 2015.
The festival was launched in 2013 by Eric Rumble (then editor-in-chief of Alternatives Journal, which funded the first instalment as a marketing experiment) and incorporated as a federal non-profit organization in August 2015. NIGHT\SHIFT culminates on the evening of the annual autumn time change – in 2016 that means the festival peaks on Saturday, November 5th!
NIGHT\SHIFT attractions, activities and gleeful occupations are are spread throughout various indoor and outdoor locations in downtown Kitchener – small and large businesses, cultural institutions and cafés, public and private spaces, parks and parking lots, lane ways and streets.
Recent blog posts
2016 Festival \\ Call for Contributors
The NIGHT\SHIFT 2016 call for proposals is now closed.
The festival organization is currently accepting submissions for artistic contributions to NIGHT\SHIFT 2016. This year's festival will take place in select downtown Kitchener locations and culminate in a free, multi-venue main event on Saturday, November 5th, 2016. Details about the application process are outlined below – the submission deadline was Monday, August 22nd.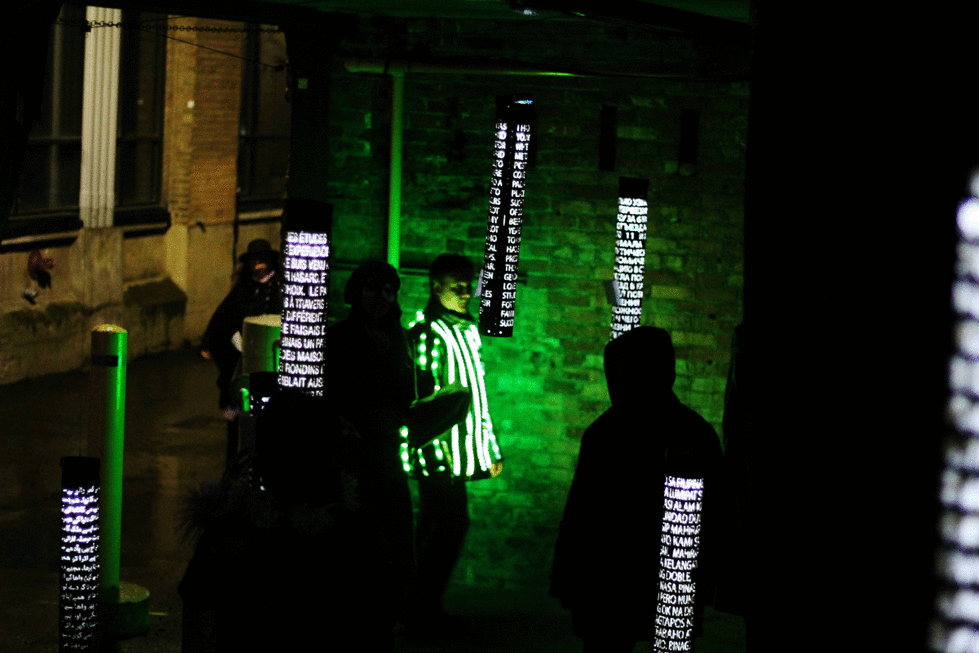 The NIGHT\SHIFT Placehacking Festival's organizing team is ready to produce downtown Kitchener's fourth annual pop-up art crawl\nocturnal adventure. Our goal is to build on the stunning collisions that took shape in 2013, 2014 & 2015 and attract another wide-eyed showcase of visual artistry, performance acts, participatory creativity, tech prototyping, bright ideas and delicious sensations on the fall evening when the clocks roll back an hour.
NIGHT\SHIFT 2016 will again occupy various indoor and outdoor locations downtown, essentially forming an explorable-on-foot, backwards-L-shaped otherworld between the Kitchener-Waterloo Art Gallery and Kitchener City Hall. Wherever possible, the festival reimagines laneways, parkettes, intriguing buildings and overlooked gems – and preference will be given to proposals aimed at a small collection of specified downtown spaces.
The curation committee seeks to assemble projects and creations by a range of (primarily local) visual artists, media makers, students, social groups, entertainers, entrepreneurs, community leaders and builders, cultural organizations and other random individuals. We are supported by a range of downtown businesses and local cultural institutions, and a beaming green light from the City of Kitchener to produce a fourth version of NIGHT\SHIFT.
If you need a refresher, check out what wowed the festival audience in
2014
&
2015
.
Be a placehacker \\ volunteer for Night\Shift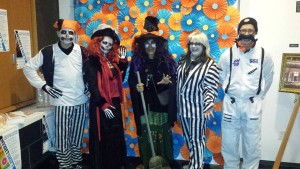 Night\Shift Placehacking Festival is downtown Kitchener's free, walkable celebration of pop-up art, performance and participatory creativity, featuring contributions by local creators, entrepreneurs, organizations and citizens. The festival organization is now planning for a fourth annual instalment from November 1st to 5th, 2016.
Night\Shift if seeking to fill a series of newly created VOLUNTEER positions as it begins ramping up for the 2016 festival:
PHOTOGRAPHERS\VIDEOGRAPHERS who will be responsible for:
– capturing compelling moments from the making of Night\Shift 2016, and creating images and video files that can be shared through the festival's social media accounts, website and other promotional channels (including printed materials)
– producing visual profiles of selected contributing artists as they prepare for Night\Shift 2016, and collaborating with the web editor to post them at nightshiftwr.ca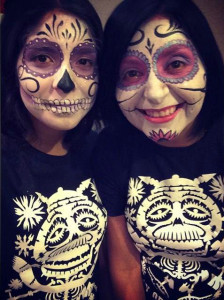 – documenting the setup and presentation of the Night\Shift 2016 festival in early November and coordinating with the social media producer to share content on the fly
– planning, documenting and producing a photo gallery and short video series for post-festival recap and promo
The need for photography will gradually ramp up from mid-September through October 2016, then be heavily concentrated during the first week of November, followed by some post-fest post-production.
WEBSITE EDITORS who will be responsible for:
– helping to produce, build, troubleshoot, and improve the content of nightshiftwr.ca
– assisting the festival director with updating the website to present the 2016 festival programming lineup
– preparing and posting web pages to promote Night\Shift programming sites/contributors
– assembling and producing images and/or video to support nightshiftwr.ca content
– improving nightshiftwr.ca's SEO practices
– assisting with content migration to a third party mobile app of festival sites
The 2016 festival lineup sprint will begin (based on the last three passes at it) in mid-September and continue at an ASAP posting pace until complete. Other project timelines will be figured out as we go. 
FESTIVAL SPARK PLUGS who will be responsible for:
– promoting Night\Shift, the festival's partners and volunteering or contribution opportunities at events and recruitment opportunities in and around Kitchener-Waterloo in late summer and early fall of 2016
– helping with setups and teardown of a variety of installations and activity areas
– assisting with the physical distribution of marketing materials
– satisfying the needs of festival programming in whatever random ways take shape
VOLUNTEERS will work with both the festival director and volunteer coordinator, casually but based around a mutually agreeable hours per month commitment. Volunteers will work remotely and manage their own schedules, supported by orientation and direction, and will be given production, project management and problem solving challenges. Volunteers will be rewarded with appropriate letters of recommendation (upon request) and invited to festival development events. You'll also be joining a burgeoning community of folks who care deeply about reimagining their built environment as a diverse multidimensional canvas.
PLEASE GET IN TOUCH \\
eric [at] nightshiftwr [dot] ca