NIGHT\SHIFT Placehacking Festival is downtown Kitchener's annual nocturnal art crawl, featuring pop-up art and performance, participatory creativity and impulsive community building.
NIGHT\SHIFT empowers mostly Waterloo Region-based artists, makers, entrepreneurs and organizations to reimagine downtown Kitchener venues with multidisciplinary visual and performance art, bright ideas and mind-opening interaction. The festival enlists both artists and citizens from various subcultures to experience reanimated pockets of their built environment, share rare communal experiences, and spark unexpected collaborations. 
During its first three instalments in 2013, 2014 and 2015, Night\Shift has paid more than 300 artists to produce nearly 100 pieces of programming, all of it presented for free within a walkable area of downtown Kitchener. Each version of the festival has attracted an audience of thousands to people, and Night\Shift was named Best New Festival by the Waterloo Region Arts Awards in June 2015.
The festival was launched in 2013 by Eric Rumble (then editor-in-chief of Alternatives Journal, which funded the first instalment as a marketing experiment) and incorporated as a federal non-profit organization in August 2015. NIGHT\SHIFT culminates on the evening of the annual autumn time change – in 2016 that means the festival peaks on Saturday, November 5th!
NIGHT\SHIFT attractions, activities and gleeful occupations are are spread throughout various indoor and outdoor locations in downtown Kitchener – small and large businesses, cultural institutions and cafés, public and private spaces, parks and parking lots, lane ways and streets.
Recent blog posts
Thank you for placehacking DTK!
Whew. What a ride. And whether you strapped in for all of Night\Shift 2016 or just caught a whiff of its vapour trails, I hope you saw or heard or happened upon an experience that helped you to peel back a fresh layer of downtown Kitchener.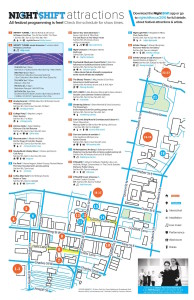 This year marked the fourth Night\Shift Placehacking Festival. It reimagined 18 downtown spaces with 23 original pieces of programming, some with many moving parts, and featured contributions by more than 40 multidisciplinary artists. A buffet of 20 musical acts played, led by 5 nights of live sounds under the same roof as the interactive INFINITY TUNNEL installation. And – finally blessed with good weather – it brought a wide range of people out in droves on an otherwise hibernation-prone Saturday night, exploring the core on foot to find connection, intrigue, inspiration and something unknown.
Applying Night\Shift's fort-building mentality to a 12-block slice of big/small/indoor/outdoor/public/private spaces again in 2016 was only possible because of the festival's support network. The rest of this post is mostly about them. But first and foremost: Thanks to everyone who came out this year and supported Night\Shift with your ears, eyes, feelings and feet.  (more…)
Experimental music lover's guide to #NightShift16
Although 2016 is the first time Night\Shift was produced without a guiding theme, strange songsmiths are certainly a recurring layer of this week's festival landscape. Here's what to pour into your ears over the coming five evenings (& when/where), plus a selected soundtrack to get them primed. (more…)
Night\Shift is no longer one night only
Four years deep, following lower-key attempts to add extra days of placehacking to the festival, #NightShift16 has spread out to include more nights (and days) of programming. Night\Shift 2016's main event on Saturday, November 5th will feature an array of free multidisciplinary art and performances in 18 downtown Kitchener spaces over a dozen city blocks. But there are also two exhibits that bookend that date, five straight nights of live music at the INFINITY TUNNEL installation, and an epic day-long participatory project that turns festival-goers into film stars.
The life-sized comic strip \\ Mercury Cafe windows
Illustrator Trevor Waurechen is already more than a dozen panels into his month-long residency project for Night\Shift, which turns the Mercury Cafe's floor-to-ceiling windows into a huge see-through comic strip. He's adding panels every Monday and Wednesday afternoon, leaving a home stretch of drawings to finish up between 7pm and midnight on Nov. 5th – when festival-goers will be invited to colour in his illustrated story on the opposite sides of the cafe windows. The Mercury will also be hawking food and drink, and its sister business gets in on the festival fun from 11pm to 2am with a super creepy late-night screening. (more…)