NIGHT\SHIFT Placehacking Festival is downtown Kitchener's free pop-up art crawl.
NIGHT\SHIFT empowers local artists, makers, entrepreneurs and organizations to reimagine downtown venues with multidisciplinary visual and performance art, bright ideas and mind-opening interaction. The festival invites contributors and participants to reanimate intriguing pockets of their city core, share rare communal experiences and spark unexpected collaborations. 
The festival was created by Eric Rumble and launched by Alternatives Journal in 2013, and has since paid hundreds of contributors to produce 110 pieces of original programming. NIGHT\SHIFT was named Best New Festival by the Waterloo Region Arts Awards in June 2015.
NIGHT\SHIFT culminates on the evening of the autumn time change – in 2017 that means the 5th annual festival peaks on Saturday, November 4th!
Recent blog posts
Night\Shift 2017 lineup launch + volunteer social = Thu Sept 14th @ Goudies Lane
If you're into reanimating alleyways, kick-ass live music, meeting new (and old) pals and helping out your friendly neighbourhood placehacking festival, save this date!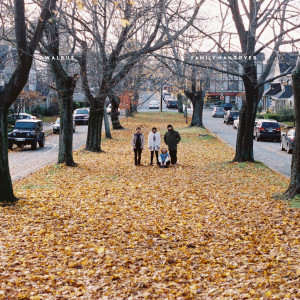 On Thursday, September 14th from 6:30-9:30pm at Goudies Lane in downtown Kitchener (between Queen and Ontario streets), Night\Shift Placehacking Festival is hosting a free pop-up block party featuring two live bands, the official reveal of the festival programming lineup for November 2nd to 4th, 2017, and opportunities to get involved as a festival volunteer.
This all-ages event in a mural-laden laneway (closed to cars for us!) will be headlined by the soul-blistering sounds of Halifax band Walrus, plus a TBA opening act.
Between sets, details about the 20+ amazing programming contributions to Night\Shift 2017 will be unveiled and organizers will be on hand to talk about how locals can help make this year's festival happen.
In the meantime, we're already on the hunt for brains and brawn to get Night\Shift 2017 off the ground. Check out the volunteer roles that need filling in the coming weeks and please get in touch via the form below if something grabs you!
Web editor & publisher \\
By early Sept, we'll need help with plugging content into web pages and making sure it all works right and sits tight for the lineup launch, plus we'd welcome simple design tweaks or other quick improvements to nightshiftwr.ca.
Media producers & artist profilers \\
As we ramp up to Nov 2nd to 4th, we'd like to share sneak peaks of how local 2017 artists' projects are taking shape, so we'll be looking for written or recorded Q&As with photos and/or short, slick video profiles.
Postcard & poster deliverers \\
By mid-September we'll have a pile of posters and postcards that we'll want to get on to walls that get a lotsa eyeballs and mailboxes or cafe counters within walking distance of downtown Kitchener. Do you like walks?
Night\Shift 2017 festival call for proposals
The submission window for the fifth annual instalment of Night\Shift Placehacking Festival is now closed
.
The festival's main event will happen on Saturday, November 4th, 2017 (the evening of the fall time change), from 7pm-2am, with lead-up programming on November 2nd & 3rd.
Night\Shift is seeking a broad range of submissions, including but not limited to visual and performing arts (projection, sculpture, installation, dance, music and sound art, whatever) and other interactive activities. Proposed projects should challenge festival-goers to reconsider the typical use, appearance or purpose of public or private spaces, and aim to provide an unconventional cultural experience that includes and engages a diverse audience at a free, all-ages event.
Night\Shift will provide selected applicants – whether artists, makers, hobbyists or inventors – with space to present their work and an audience to play with. Anyone with a great space-transforming idea to share should apply.
The festival intends to draw out hidden possibilities of downtown Kitchener's built environment. Night\Shift 2017 will be concentrated in and around Ontario Street between King and Weber, Duke Street between Ontario and Frederick, and Goudies Lane.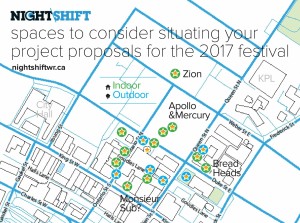 Project locations for Night\Shift could include (but may or may not be limited to) retail environments and street-facing storefront windows within the area described above, or this recommended list of specific spots to consider:
Duke/Ontario parking garage booth area & adjacent parkette \\ Ontario St. (King to Duke) \\ Goudies Lane (Ontario to Queen) \\ Adventurers Guild Board Game Cafe & Tavern \\ Mercury Cafe \\ Apollo Cinema \\ J&P Grocery \\ Show & Tell (formerly StylFrugal) \\ Vogelsang Green \\ Bread Heads \\ St. Peters Lutheran Church \\ Zion Church \\ Jack Burger? \\ Monsieur Sub?
The exhibition is curated by Night\Shift's Programming Committee.
Night\Shift pays project fees of up to $1000 CAD.
Submission Deadline: Friday June 30 2017
SUBMISSION GUIDELINES
Selected contributing artists will be compensated for producing work or programming for NIGHT\SHIFT 2017. Payments of up to $1000 maximum, to cover both project expenses and artist fees, will be negotiated by the festival director with contributor(s), and will be paid after projects have been presented;
Artists or contributors do not need to provide their own insurance for this event;
Artists or contributors who are approved to participate in the 20176 festival can solicit their own sponsorship or corporate donations, but they must first obtain written endorsement from NIGHT\SHIFT before committing to any sponsorship recognition requirements;
NIGHT\SHIFT organizers and curators cannot assist artists from locations outside of Waterloo Region with travel or materials transportation expenses;
Please use the following naming convention for your attachment files: [artist surname]_[proposal title] (For example: Smith_LighteningStorm.jpg);
Submit mage files as .pdf, .jpg or .png only; video files should be .mov, .mpeg or .avi, and audio files should be .mp3 or .wav;