Contribute
It takes an entire community's creativity (and a whole lotta prep work) to remix a downtown core.
Visual and performance artists, media and technology producers, students and student groups, nocturnal adventurers, freestyle community builders, experimental restauranteurs, small entrepreneurs, cultural stakeholders and other random creators come together to shed new light on the downtown Kitchener cityscape after dark at the annual Night\Shift Placehacking Festival.
Become a Night\Shift partner
Night\Shift is an annual showcase of creativity and reimagined public space in downtown Kitchener, and an excellent platform for Region of Waterloo businesses, organizations and individuals to celebrate their commitment to the community and the people, ideas and successes that propel it.
We develop collaborative partnerships, gladly accept sponsorship and in-kind donations, and are generally open to discussing any other kind of support or festival-boosting opportunities.
Volunteer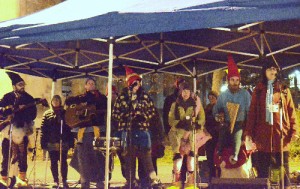 We're looking for enthusiastic, dedicated and creative individuals to fill a variety of volunteer positions as we ramp up to the presentation of the 5th annual Night\Shift Placehacking Festival . If you want to contribute some behind-the-scenes time and energy, please get in touch (using the form below) and share some details about what attracts you to the festival and how you think you could help.
+ here's a start, if you haven't already: LIKE Night\Shift on facebook or follow @NightShiftWR on Twitter or Instagram to stay tuned to 2017 festival announcements and happenings.
Donate
Check out the Nigh\Shift 2017 crowdfund here!