An exhausted (yet extremely pleased) festival director's guide to catching every shred of Downtown Kitchener's 5th annual placehacking festival.
So so soon, the clocks will roll back, and the darkness will creep further.
Before the urge to hibernate grabs hold, take these things…
Thursday Nov 2nd \\ 7pmish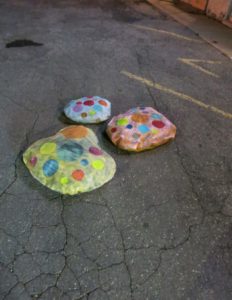 Look for Susan Coolen's P.U.D.D.L.E.S. outside Open Sesame, in City Hall's west wing. This'll be the first piece of Night\Shift 2017 that anyone sees. Their stoic and a-little-silly loveliness will also help you find spots on the festival landscape for the next three days.
Catherine Mellinger's festival-kickoff collage party starts around 7, and #NightShift17's inaugural special guest contributor—Toronto's Castle If—will helm the mezzanine from 7:30-8:30-ish, fuelling the room's creative juices with sweet, sweet drones like these . Branko Vranic will spin records before and after, then from 9-10-ish, Kitchener's own wizard of deep tones d/dt will keep the collage-making flow going through your finishing touches.
Friday Nov 3rd
10am \\ 24-Hour Dolly screening begins
Can work wait today? No Friday brunch plans? Break your placehacking fast and be at Kitchener-Waterloo Art Gallery 's Community Access Space (101 Queen St. N.) to catch the beginning of Dylan Reibling's exclusive 12-hour screening of footage from the installation film experiment/endurance test that he and his team created for Night\Shift 2016 in the Kitchener City Hall rotunda. Let's let your faces do the convincing on why you shouldn't miss seeing at least some of what he saw in us on the same night last year…
Reibling's 12-hour director's cut will continue showing throughout the day, alongside KWAG's Carry Forward , so consider this an unbeatable coffee/escape spot or day date destination on Friday.
5pmish \\ Go dome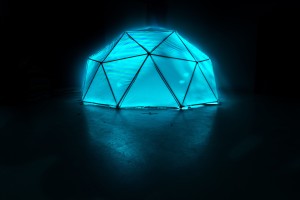 Let the insides of your head craft the sound and colour of your own personal escape zone (for a few minutes, anyway) and be one of the first locals to get inside LUCID. Sessions will be first come, first served and it'll certainly be easier to get a spot than when this piece pops up at the Mercury cafe on Saturday night.
6pmish \\ Drone zone v2
M. Mucci revs up the live music component of Friday's NIGHT\SHIFT placehacks KWAG event with an hour of his head-tripping, heart-punching instrumentals. On his heels, hour-long sets by fellow Polars Seas Recordings label-mates Clara Engel and North Atlantic Drift will happen at 7:20ish & 8;45ish.
10pmish \\ Early risers
On your way downtown for a late bite or a drink after the show, go get a sneak peek at the two newest (temporary) visual additions to Ontario St. Both Ellie Anglin's fabulously elaborate Resist Psychic Death and Tee Kundu's Ok Sure are being installed on Friday afternoon, so those in the know can get their peepers on 'em early.
Saturday Nov 4th
7pmish \\ Words + otherworlds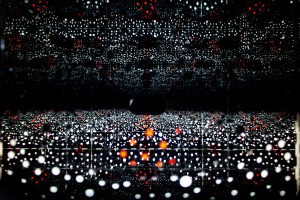 As festival installations begin, start your nocturnal adventure with a pile of randomly encountered but potentially potent words at The PoeTree , in the small park you hardly ever notice at the corner of Duke and Ontario. From there, go up Ontario to the giant Cinema sign and head inside to the darkened hallway that leads to the Mercury Cafe, where you'll find eye-boggling wonders — the kaleidoscopic lands of the VRlens monitors and a holographic messenger called Space Mother .
7:45 \\ Sounds + lights
The #NightShift17 music show at Apollo Cinema begins with a bang: respectfulchild 's spookily looped and totally gorgeous songs, hauled all the way to DTK from Saskatoon! They'll be accompanied by projection artwork on the big screen created live by James Anthony Usas , and that pattern of musical and visual collabs will keep echoing—so scope out which musical acts you don't wanna miss and plan your night around those.
You'll Never Get To Heaven
+ visuals assembled by the band @9pm \\ New Fries + visuals by nik harron @10pm \\ ANAMAI + visuals by Bryce Kushnier @11pm \\ Cadence Weapon + visuals by VERSA @ 12am + Coy Haste + visuals by Jax A Muse @ 1am (clock roll back @2)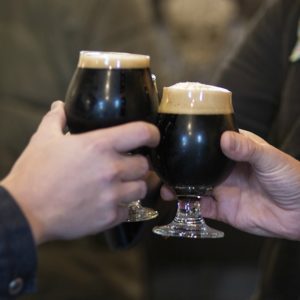 And to keep you quenched during all that lovely racket, Together We're Bitter 's specially brewed (and decidedly shifty) Night\Shift Black Pale Ale should be on tap at Apollo's bar (unless movie-goers drank it all already).
8:30 \\ Forbidden Mass
Make your way to DTK's best semi-secret spot in plain sight—inside the lime green helix-shaped Duke St. parking garage ramp—where Katherine Road Quartet will reprise the transportive vocal harmonies they brandished in the rain at Gaol Garden during Night\Shift 2015.
8:55ish \\ Ready… draw!
Let the ingenious mind of Ian James Newton cultivate your memories of the mundane and turn our hive mind's raw drawing skills into an ephemeral gallery of plain (and thereby not plain at all) imagery. Find Selectively Selective behind the spot where they usually hang up your coats at TWH Social (below ground in the Walper Hotel building).
9:20ish \\ Ghouls + phantom drums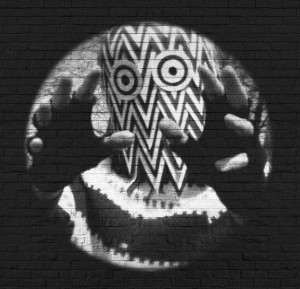 Right next to TWH Social's entrance on King St., in an unoccupied space that was most recently a dollar store, two local newcomers to the festival (and to creating their own installations) will fill the emptiness with reinvented parts of their other artistic pursuits. Otherwise, Daniel MacPherson's Duet and Torin Langen's Offerings could be from completely different planets.
9:45ish \\ Goudies playground
Hit Goudies Lane from Queen St. and scope out the 6th mural being added to this pocket of downtown in 2017, courtesy of Communitech's True North project. Stop to gawk (and flash back to latent childhood fantasies) at Gary Kirkham's low-tech illusion, Marble Alley . Dive deeper into adolescence as you enter Michelle Purchase & Agnes Niewiadomski's Fibre Funhouse —essentially a giant fort with six themed rooms, all hand-crafted using different materials and fibre arts disciplines. Layered into that wonderful wackiness is a theatrical intervention led by Green Light Arts called The House of Fun —catch the 2nd or final hour-long performance of the night at 10 or 11:30pm.
Before leaving Goudies to retrace the #NightShift17 pieces that grabbed you, head up to the J&P Grocery mezzanine for a drink or a snack and to let your voice make shapes on the hardwoood by lending it to VERSA's Megaphonic .
And if you've been having a blast exploring all of this weird, experimental art in downtown Kitchener, please consider giving to the Night\Shift 2017 Festival Crowdfund , which features some kick-ass perks from local artists and businesses.
Also, please holler into the internet about your #placehacking adventures at #NightShift17!