A troubling visual insight into the huge beauty and horror of our consumerism.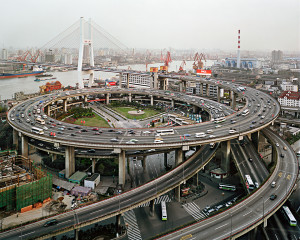 Edward Burtynsky's striking photos depict humankind's radical transformation of the natural world in pursuit of progress and efficiency. They show us the lasting impact of progress as an actual scar on the land, yet presented in a visual language that is seductive.
Infinite Change focuses on the recent gift of 40 works to KWAG by the artist, upping the gallery's collection to more than 90 images. Many works included in this exhibition use an aerial vantage – a viewpoint generally associated with scientific, rather than artistic, inquiry. His Oil series overlooks the vast black reflecting pools of Alberta fields transformed by extraction. His Water series captures agricultural landscapes rendered unfamiliar by intensified irrigation and drought-resistant farming, with brown and ochre veins that suggest a microscopic view of biological material rather than a macroscopic view of reconstituted land. In his Mines series, images of the physical procedure of digging for precious metals in Australia reveal voids left in the landscape, an example of what the artist has described as "a lasting testament to our ambitions."
Burtynsky is one of Canada's most respected and decorated photographers. His work can be found in the collections of over 60 major museums around the planet, including the National Gallery of Canada, the Guggenheim Museum in New York and the Reina Sofia Museum in Madrid. He is an Officer of the Order of Canada (2006) and a Governor General's Award Winner (2016).
(adapted from KWAG senior curator Crystal Mowry's promotional profile)
SHARE
Kitchener-Waterloo Art Gallery (101 Queen St. N.)
Sat Nov 5th \\ 7pm to midnight