Explore a trippy, infinity-mirrored hallway with sound-activated LEDs strung overhead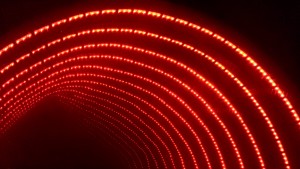 Let this psychedelic cocktail of light and reflection reshape your point of view. The INFINITY TUNNEL 's light-triggered otherworld is built to respond to the sounds of both its audience and a range of strange and lovely live musical acts that will "play" the space during the first five nights of November 2016. The opportunity to walk into a 20' stretch of endlessly fragmented repetition will spark a community gathering spot like no other on the second floor of a former post office turned arts, culture & tech space.
Local multimedia artists and long-time Night\Shifters nik harron and Bernie Rohde are well known for their innovative work combining technology and art into interactive experiences. Both have been working as artists/inventors for 25 years and have extensive exhibition experience. More of their stunning optical illusionary and tech-tweaking work will be on display at 44 Gaukel too.
What happens inside the INFINITY TUNNEL depends on you, whoever's there at the same moment, and whatever's flowing from the speakers.
This installation project and its contributing artists have been generously supported by a Region of Waterloo Arts Fund grant – without which it would not be possible to produce and present it as a marquee attraction of #NightShift16.
SHARE
44 Gaukel St. (across from Charles St. bus terminal), 2nd floor
Nov 1st-4th \\ 7-10pm + Nov 5th \\ 7pm-4am