Downtown Kitchener's 2nd annual communal nocturnal adventure festival on Saturday, November 1st 2014 was an act of spectacular creativity.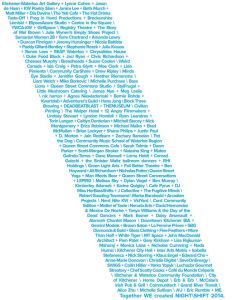 Local artists, organizers, small businesses, community builders, cultural institutions and social networks imagined possibilities just below the surface of their familiar built environment. Festival explorers – downtown residents and workers, curious suburbanites and students, visitors from Guelph and Toronto and beyond – bundled up and came out to help peel back those physical and social layers for a single moon. It was a blast!
Let's do it all again in 2015, shall we?
In the meantime…
Let us know you want to get involved in producing the 3rd annual Night\Shift festival on Saturday, October 31st, 2015!
Show your support for the festival by getting your mitts on an official 2014 T-shirt, toque or scarf – supplies are limited, so don't flinch.
LIKE the festival on Facebook and follow the festival Twitter to stay looped in on announcements, happenings and all things Night\Shift.
Stoke your memories of the 2014 festival by savouring and sharing this retrospective: