The NIGHT\SHIFT 2016 call for proposals is now closed.
The festival organization is currently accepting submissions for artistic contributions to NIGHT\SHIFT 2016. This year's festival will take place in select downtown Kitchener locations and culminate in a free, multi-venue main event on Saturday, November 5th, 2016. Details about the application process are outlined below – the submission deadline was Monday, August 22nd.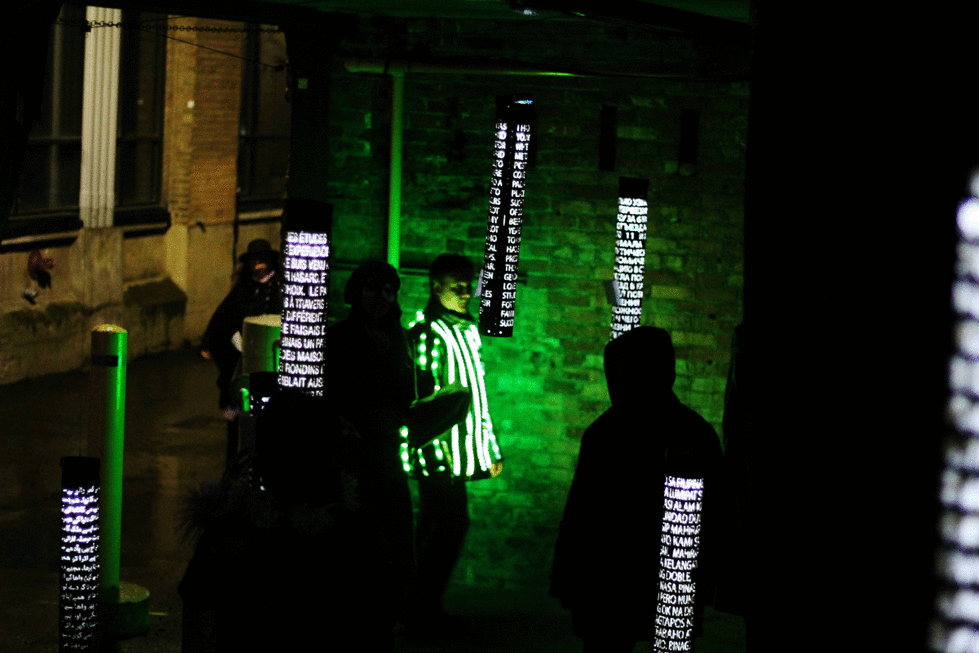 The NIGHT\SHIFT Placehacking Festival 's organizing team is ready to produce downtown Kitchener's fourth annual pop-up art crawl\nocturnal adventure. Our goal is to build on the stunning collisions that took shape in 2013, 2014 & 2015 and attract another wide-eyed showcase of visual artistry, performance acts, participatory creativity, tech prototyping, bright ideas and delicious sensations on the fall evening when the clocks roll back an hour.
NIGHT\SHIFT 2016 will again occupy various indoor and outdoor locations downtown, essentially forming an explorable-on-foot, backwards-L-shaped otherworld between the Kitchener-Waterloo Art Gallery and Kitchener City Hall. Wherever possible, the festival reimagines laneways, parkettes, intriguing buildings and overlooked gems – and preference will be given to proposals aimed at a small collection of specified downtown spaces.
The curation committee seeks to assemble projects and creations by a range of (primarily local) visual artists, media makers, students, social groups, entertainers, entrepreneurs, community leaders and builders, cultural organizations and other random individuals. We are supported by a range of downtown businesses and local cultural institutions, and a beaming green light from the City of Kitchener to produce a fourth version of NIGHT\SHIFT .
If you need a refresher, check out what wowed the festival audience in
2014
&
2015
.
NIGHT\SHIFT 2016 PROPOSAL BASICS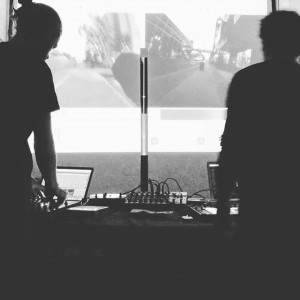 Proposals should be concisely written in plain language. All proposed programming should be properly budgeted, adaptable to a potential space provider's needs and described in detail that is easy to interpret, aided by minimal visual or multimedia materials where appropriate.
The festival intends to draw out hidden possibilities of downtown Kitchener's built environment, reanimating spaces by way of collaborative installations, strange performances, digital and/or mixed media, ecstatic redecorations, well-crafted experiences and interactive activities, all geared toward a broad audience on foot (and potentially freezing their buns off). The content of proposed projects should clearly challenge NIGHT\SHIFT festival-goers to reconsider the typical usage, dimensions, appearance or purpose of any venue.
We invite individual artists, performers, entrepreneurs, student groups and cultural organizations to submit short written proposals for installations or exhibits, technology demos, performance pieces and other participatory public engagement ideas. The deadline for proposal submissions was Monday, August 22nd at 5pm (Kitchener time).
NIGHT\SHIFT CONTRIBUTIONS MUST:
Be responsibly prepared to take place on Saturday, November 5th, 2016, in downtown Kitchener, Ontario, between the hours of 7pm and 2am (and secure, self-sustaining installations should be open to the possibility of an extended exhibition period);

Provide a high-quality, unconventional cultural experience that aims to include and engage a wide, diverse audience without jeopardizing their safety and/or that of event volunteers, organizers and other artistic contributors;

Be created within the proposed itemized budget, including all production expenses;

Be chosen by the curators committee after a group evaluation of each proposal's likely audience appeal, budget details and basic logistical criteria for inclusion in the festival;

Provide free admission to NIGHT\SHIFT attendees;

Be installed, presented and removed in a careful and considerate manner that abides to all by-laws, laws and safety regulations or requirements, as assessed by the City of Kitchener.
2016 PROGRAMMING NEEDS:
NIGHT\SHIFT is seeking an array of original music acts, unique speakers, live performers and perhaps even a few painters or other hand crafters to do what they do in one (or more) of a few different indoor venues. One of the venues will be video recorded, so proposed performances/acts of creation should be brief and gripping; another venue will focus on guitar artists; another will have music too but will not really aim to focus on guitarists; and others may be in the possibly chilly outdoors (weather dependent, obviously). Please briefly describe (and share some links to) what you do and what you're up for doing at the festival.

An outdoor installation, performance, presentation or multimedia reimagining to occupy space in Civic Centre Park (at Queen & Otto streets, between KWAG and KPL).

An outdoor installation, performance or participatory activity to take over Gaol Garden, the enclosed, small, stone courtyard beside the provincial courts office (and KPL).

An illustration project or serial comic strip to animate the floor-to-ceiling windows of the hallway and/or courtyard space (partially captured in this image) beside Mercury Café (inside the building at 30 Duke St. West). Ideally this project will begin on October 5

th

and be added to on a semi-daily or weekly basis until the 2016 main event on Sat., November 5

th

.

Visual and/or sound installations and/or performance acts that could be presented in the small, circular outdoor space inside the helix-shaped, five-story parking garage entrance at Duke and Ontario streets (aka the lime green Parkenheim – partially captured in the image below). Please note that the parking garage entrance lane (where the cars go) cannot be used to accommodate a festival audience, so participants must be invited into the enclosed area to interact with whatever is being installed/performed/presented.

An installation, performance, atmospheric layer or party idea to be presented in Goudies Lane between Ontario and Queen streets.

An outdoor installation, performance or placehack to be realized in the covered, four-space parking area off Halls Lane, behind both Matter of Taste and DNA screenprinting, between Ontario and Gaukel streets (semi-recognizable in the two images below).

An unexpected happening, pop-up curiosity or surprising use of space at Carl Zehr Square out front of City Hall, and/or out back of the same building inside of the caged-covered patio area beside the Duke and Young St. intersection. (Please note that there is already as substantial piece of festival programming being developed to take place inside City Hall.)
NIGHT\SHIFT ARTIST PROPOSALS MUST:
Include all names of individual artists (or members of a collective, organization or community group) that will participate in producing the proposed installation, event or activity, and include contact information (phone numbers and emails) for the artist(s) who will bear responsibility for ensuring full delivery of the project as proposed;

Include an itemization of all expenses and requirements related to the production and/or construction of an installation or event, including supplies, equipment rentals, power needs, transportation costs, etc.;

Agree to create a site-specific exhibit, installation or performance project that would be located in a designated NIGHT\SHIFT festival location, as determined by the curators committee and participating business owners and venue managers;
Attempt to clearly describe the physical presence your proposal will have during NIGHT\SHIFT , providing an artists' rendering or mock-up image (or other media such as videos, press materials, etc) as appropriate or upon request;

Submit a proposal description in writing (no more than 500 or so words, please) including all details requested above, with no more than three pieces of support material (images, videos or audio works that you wish to have the curators committee include in their evaluation) as attachments via email or snail mail;
Submissions must be received before 5pm on Monday, August 22nd, 2016, addressed to the "Night\Shift curators committee" and sent to either eric[email protected], or mailed or hand-delivered to Eric Rumble, c/o Night\Shift & City of Kitchener Economic Development, 200 King St. W., 6th floor, Kitchener, ON N2G 4G7.
THE NIGHT\SHIFT CURATORS COMMITTEE WILL:
Be composed of five people, including NIGHT\SHIFT 's festival director, the three other members of the festival's Board of Directors, and one City of Kitchener representative;

Assess all proposed projects that meet the above criteria in a fair and judicious manner, both individually and as a group;

Judge all proposals based on their artistic merit, thematic appropriateness, logistical and physical feasibility, provided support materials, budgetary demands, relative production costs to other proposals, the history of the applicant as a professional artist, and other criteria determined to be crucial to the decision-making process during committee deliberations;

Collaborate with the authors of successful project proposals and the festival's roster of downtown venue partners to choose an appropriate event location;
THE FINE PRINT
Selected contributing artists will receive a modest stipend to account for expenses and to compensate for participation in NIGHT\SHIFT 2016 . Payments of up to $1000 will be negotiated by the festival director with contributor(s), and paid upon delivery of the project;

Artists or contributors do not need to provide their own insurance for this event;

Artists or contributors who are approved to participate in the 2016 festival can solicit their own sponsorship or corporate donations, but they must first obtain written endorsement from the festival director before committing to any particular sponsorship recognition requirements;

NIGHT\SHIFT organizers and curators cannot assist artists from locations outside of Waterloo Region with travel or materials transportation expenses;

For any digital attachments that are submitted with a proposal, please use the following naming convention for your files: [artist surname]_[proposal title] (For example: Smith_LighteningStorm.jpg);

Please submit written proposals as a .doc or .pdf file only;

Please submit video files as attachments to proposals in .mov, .mpeg or .avi file formats, and audio files should be .mp3 or .wav files only;

Emailed proposals should not exceed 10 MB in size, including all attachments and required documents.