Cafes and comic strips share a well-established history as windows into modern life.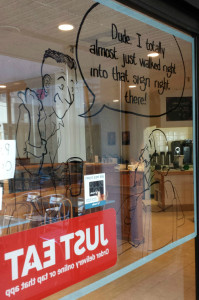 This month-long residency project will serve to link the two, and provide viewers with a glimpse of themselves and those around them, turning the windows of the Mercury Café (down the hall from its sister business, Apollo Cinema ) into a figurative mirror. Kitchener-based cartoonist Trevor Waurechen 's serial comic strip story will depict a typical cafe conversation, in which no topic is taboo and everything makes sense for at least as long as the coffee stays hot.
The story will unfold one window at a time over the course of the month, culminating in an interactive display during #NightShift16, when the entire strip will be transformed into Kitchener's largest grown-up colouring book. Produced in black marker on the cafe's floor-to-ceiling glass panels, festival-goers on November 5th will be invited to colour in the completed story from the opposite side of the glass.
SHARE
Mercury Cafe (30 Duke St. W.)
Gradually created from Oct 5th to Nov 4th + Sat Nov 5th \\ 7pm-midnight