Soak up some bloody gruesomeness & craft beer during a #NightShift16 intermission.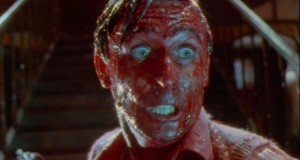 Cent une tueries de zombies (aka 101 Zombie Kills ) is a curated video montage of some of the greatest moments in the ever-growing catalog of undead carnage. Far more than just another YouTube supercut, Colin Geddes and Michael Lane quickly establish a storytelling rhythm, dividing the 40+ minutes of zombie mayhem into into escalating acts that will be familiar to those who love the genre: the initial zombie rise, the surviving people barricading themselves indoors to watch the news reports, the eventual breaching of barricades, and eventual involvement of the authorities and military forces. If you must, see if the arithmetic adds up to the promise of the title.
Apollo Cinema will screen Cent une tueries de zombies on a loop for three hours (following their regularly scheduled roster of early- and late-show movies) and their snack bar will be serving drinks and snacks.
SHARE
Apollo Cinema (141 Ontario St. N.)
Sat Nov 5th \\ 11pm-2am