Give to the 2015 festival's crowdfund & take home fantastic perks!
NIGHT\SHIFT Placehacking Festival celebrates local community, creativity, ingenuity and exploration. Thousands bundle up to wander downtown Kitchener after dark on the evening of the autumn time change, searching for surprises in its nooks and crannies, cultural touchstones, commercial hubs and heritage buildings. It's a rare moment that hinges on people bundling up and coming out in uncharacteristic droves to reimagine the possibilities of their public spaces and to seek out the emotional sparks that define the core of their city.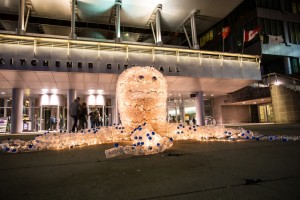 After just two years of forming Kitchener's answer to nuit blanche, Night\Shift is now hailed as juicy evidence of downtown's cultural rejuvenation. The festival's underlying goal is to get locals to experience the hefty collaborative potential that is embedded where they live and work – via individuals' creative visions, smart technological solutions, hidden treasures or uses of the built environment, and the magic of unplanned moments of interaction. The annual, walkable multidisciplinary event also makes productive and inspiring use of downtown's so-called dead zones and underused indoor spaces, allowing festival explorers to see unappreciated areas of their community and become better connected with their surroundings and neighbours.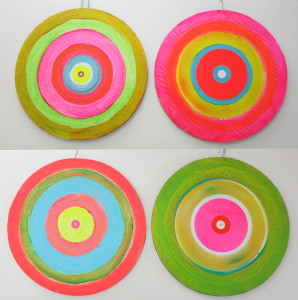 NIGHT\SHIFT is a non-profit organization run entirely by volunteers. Most of the money raised from successful grant applications as well as private donors and partnerships goes into paying festival contributors for their materials, time and energy, so they can concentrate on embedding fabulous ideas in the free programming landscape. The festival's volunteer director has already raised more than 80% of the funds needed to support more than 30 pieces of programming for Night\Shift Halloween as we #CostumeTheCore on Saturday, October 31st, 2015.
Now we're asking for help from local festival-goers, downtown Kitchener stakeholders and community builders, and patrons of contemporary art and creativity in Waterloo Region. Whatever money is raised by this campaign will support more than 100 contributors to the 2015 festival by topping up honoraria, helping cover administrative costs and paying for essential services like security, cleanup and promotional creative. It'll also ensure the festival enough budget breathing room to begin getting plans for Night\Shift 2016 off the ground.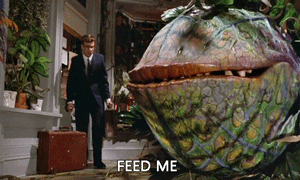 The #NightShift15 crowdfunding campaign also features a range of fabulous perks provided by a range of great downtown Kitchener businesses, including Walper Hotel , Thalmic Labs , The Yeti & Kwartzlab . Supporting the festival's crowdfund is the only way to get into our exclusive post-fest wrap-up brunch on Sunday, November 1st at noon. Ticket holders will enjoy a scrumptious brunch buffet at Mercury Cafe , live music by Devarrow & Run Coyote and a matinee screening of Frank Oz's director's cut of Little Shop of Horrors at the Apollo Cinema (right next door to the Mercury) as we toast another year of nocturnal adventure in the Kitchener core.
Help Night\Shift pay artists to placehack downtown Kitchener!