Play with nik harron's KING PONG & the InfiniScope + more oversized outdoor games.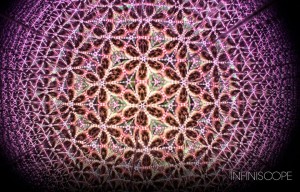 At last year's Night\Shift it became clear that it doesn't take much more than a pile of chopped-up 2x4s to get people treating a streetscape as a gaming board. And while street Jenga will make an encore appearance again this year, it'll be joined by a fabulous cast of other oversized toys to convert Goudies Lane into an outdoor play zone.
Landscape painter, video game obsessive and highly creative individual nik harron – also creative director of A\J , the local environmental mag that launched Night\Shift last year – will bring out his wall-projected KING PONG and its tire-sized Atari controllers. He'll also be unveiling a new creation: a four-foot long InfiniScope with room for two heads at once!
Polymorphous maker Agnes Niewiadomski and Kwartzlab Makerspace are custom-building an oversized version of the classic Lite Brite game board for Night\Shift explorers to play with!
We'll also have fabulous analog games (like giant chess) and plenty more table-sized boards and distractions inside The Adventurers Guild Board Game Cafe and Tavern .
SHARE
More sites
Goudies Lane between Ontario & Queen streets
7pm to 2am (plus bonus hour as the clocks roll back!)