Bring your Halloween lawn-haunter to Night\Shift's Jack-o-Lantern flash mob.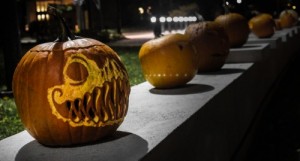 Night\Shift wants to crank up the spook factor at Civic Centre Park (across the street from KW|AG) by assembling as many Jack-o-Lanterns as possible and creating a community spectacle like no other on the eve after Halloween.
Help us make sure there's at least a few dozen ghoulish gourds to start the glowing park takeover – join us between 4 and 11pm on Wed., Oct. 29th for a Carve-your-own Jack-o-Lantern bash ! And help us spread the word about this gathering of scary grinners in your community and/or plan to drop off your carved pumpkins at the park before 7pm on Saturday, November 1st.
SHARE
More sites
Jack-o-Lanterns '12 from Richard Bolig on Vimeo .
Civic Centre Park (corner of Queen & Otto streets)
Pumpkin drop-off: 4 to 7pm + Glowing Jack-Os: 7pm to 2am