Yeti Cafe brings its shaggy swagger out after dark for the inaugural Night\Shift Hot Drinks Taste-Off!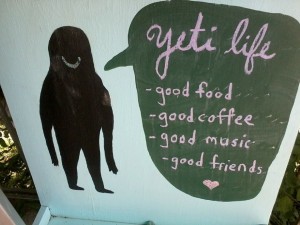 NIGHT\SHIFT explorers who braved the slightly-below-zero temperatures last year will already know that keeping warm is really the only thing they should plan in advance. This year we're offering an easy way to do so and a fabulous opportunity to sample the creative juices of five of downtown Kitchener's most fabulous purveyors of warm beverages (as well as caffeine and edible treats).
We've enlisted the brains behind The Yeti Cafe , Cheeses Murphy , Queen Street Commons Cafe , Cafe Pyrus and Matter of Taste to each create a delicious warm-up beverage and give it a snappy name. The Yeti's entry is called Dirty Yeti Milk… so expect a distinct scent? And they'll undoubtedly have an entertaining pop-up cafe in the KW|AG sculpture garden, and they'll also be selling other treats (and probably causin' trouble).
Advance purchase a Hot Drink Taste-Off Passport and get a 12-ounce taste of all five concoctions for the unbeatable price of only $9! Only 125 passport-holders will get to taste and declare the #niteshift14 Hot Drinks Taste-Off champ – buy yours early and pack your travel mug to stay warm, whatever the weather during NIGHT\SHIFT.
SHARE
More sites
KW|AG Sculpture Garden (101 Queen St. N.)
7pm to 12am