How a four-foot-square mirror by Mike Robertson and Bernie Rohde's sound-activated LEDs were forged to make a dancing, endless drop into the abyss at #NightShift15 …
Charlena Russell + Infinity Mirror = !!! The fabulous Charlena Russell pours her voice into the dancing abyss of Bernie Rohde & Mike Robertson's Infinity Mirror, made in Kitchener at kwartzlab: /making-infiniti-mirror \\ Shot by Laura McBridePour yourself in too at #NightShift15, where YOU\I will be making it move: /infinimirrorPS: Only 24 hours left to get tickets to the post-fest wrap-up brunch: https://fundrazr.com/campaigns/512tk0 \\ https://www.facebook.com/events/923257704408027

Posted by NIGHT\SHIFT on Wednesday, October 28, 2015
(as told by Bernie)
Besides decorating a dark spot somewhere downtown, we'd like to see what could be done by collaborating in a makerspace. So it's a process as much as a product – a study of Kwartzlab 's incubator environment. Results can be radical because we all come from different planets.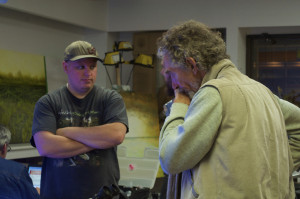 Our experiment is as much about combining resources as it is about making an object. To get acquainted we started by re-inventing the wheel. Here's Enrico with the wheel. Mike suggested making it round.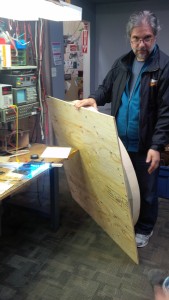 Then we heard about geometry and physics from Bob, Doug and Neil. Kwartzlab is a great place for meeting people, and then for getting good advice on almost any subject.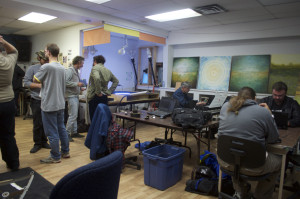 We have no plan on paper so the material itself decides what to do. Mike came up with vinyl lattice cap moulding in a 4-foot circle, bolted to plywood. Here he is, finding out what our actual dimensions could be. There's another thing the lab is good for – lots of elbow room, tools and material samples.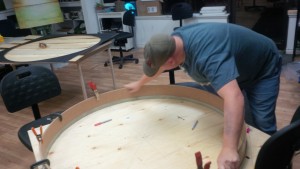 A small experimental box shows that LEDs should face the center of the frame – not away from the viewer. Placed on an angle the lights looks brighter, but all the way down you lose every second reflection.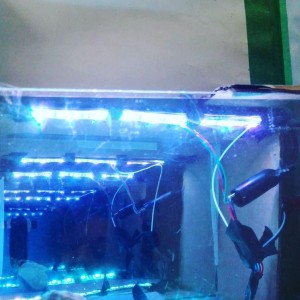 Compared with Mike's previous mirrors we see 12 reflections instead of 18, but this isn't caused by depth of the box. We tried other glass and acrylic mirrors, and Mike will check the one-way film. (When we finally built the real mirror with new clean material, the problem disappeared.)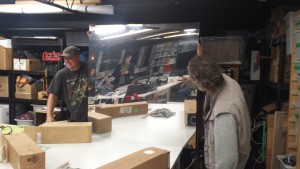 Meanwhile Bernie was studying the LED market and we had one rowdy group discussion about that. Interestingly, after comparing specs and 'descriptions' from many websites and visiting several retailers, the best deal for excellent LEDs turns out to be in Kitchener at K-W Surplus: a 5 meter strip with remote control and AC adapter (Nortech N75050KRGB-5M).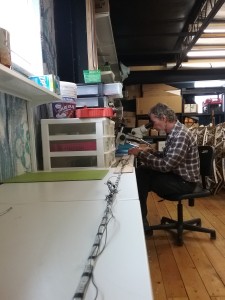 We have no idea who chose the parts for this strip kit. The adapter is much too weak for lights at full brightness. Charles at The Working Centre donated a good one, with proper regulation up to 70 watts. Our maximum power consumption for 12-foot of strip is 4.6A at 12Vdc (roughly 55W). These LEDs now appear brighter than others on the market at twice the price.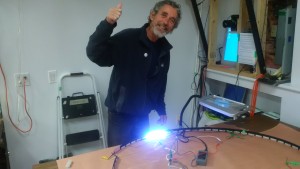 The LED package claims a "long lifespan > 60,000 hours." That could mean a half-life of seven years at 24 hrs/day – the best rating we've seen for strips – but the wording is unscientific and we're already not taking Nortech's information at face value.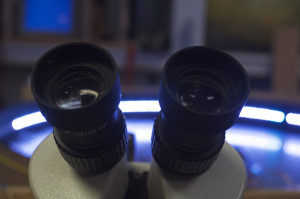 The strip has a clear flexible coating, not really waterproof (IP65) but good protection against mechanical abuse. We're cooling the LEDs to make them last longer. Bob found galvanized steel which we made into a heatsink…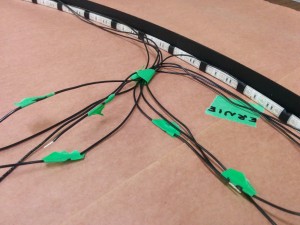 …and we've painted the steel and interior walls all black.
The 216 LEDs are divided into 24 pixel segments to show sound waves – not as a colour organ or spectrum analyzer but as an x-axis, similar to an oscilloscope display. A bass note for instance will appear as roughly 1 cycle per frame. Pixels are on or off depending on sample polarity, not sound volume. In other words, sound will cause the light pattern to change and quiet will leave it alone. Background noise will be ignored, according to a manual preset sensitivity adjustment. Automatic gain control prevents the system being swamped when a band starts to play.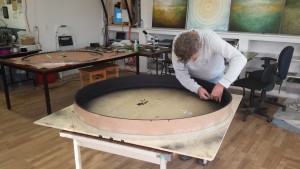 The circuit is adapted from an audio processor Bernie made for Year of Code WR , combined with a pixel driver designed by James Bastow at Kwartzlab, plus other bits…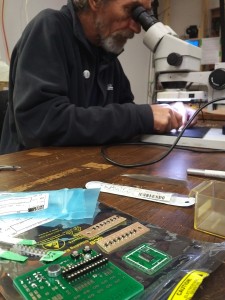 …all made by hand.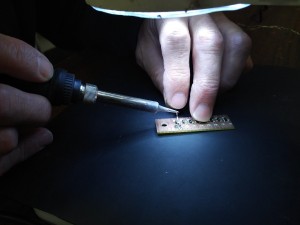 Background colour (regardless of sound-activation) is set by remote control through an RGB module supplied with the LED strip.
Eric's whistling has no effect because most of this is not hooked up yet.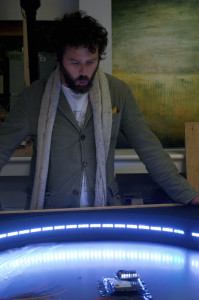 The program is YoCv9, C++ written by Bernie in the Arduino IDE, developed over several years, tested in workshop events at Kwartzlab and during musical performances at The Outpost .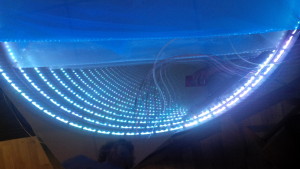 Photos were taken by Laura, Mike, Bob, Agnes, Matt, Joe, Chris, Syd and Eric. Ten other people lent a hand here and there. The whole project would have been impossible without Kwartzlab.