An irreverent pathway of movement and colour that flips city lighting standards upside down.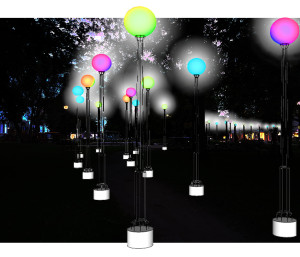 Kitchener (then called Berlin) was first illuminated by gas-powered artificial light in the 1880s, and it now hosts a multiplicity of street light designs, from the purely functional to the standard spherical luminaries found in heritage neighbourhoods. Night Light Path plays with the typically solid and uniform appearance of urban street lights. Rather than rigid standards holding up solid glass fixtures, a pathway of colourful lights inside of balloons are anchored as inverted "standards" made of netted string and old paint cans.
This sequence of lights will create an alternative walking route through Civic Centre Park, blazing an ephemeral path between Kitchener Public Library and the K-W Art Gallery . Swaying in the breeze and reacting to visitors' touch, Night Light Path turns the solidity of street furniture into an irreverent display of movement and colour.
Magdalena Milosz prac tices in the areas of writing, architecture, design and visual art to examine the social and political forces that shape our built environments, among other themes.
SHARE
Civic Centre Park (at the corner of Queen & Otto streets)
Sat Nov 5th \\ 7pm-1am