Cafe Pyrus keeps the party pumping and piping hot into the wee hours with a deep dub groove.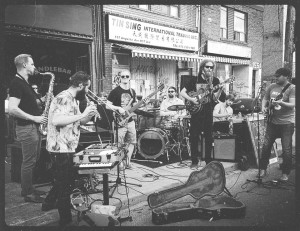 All tuckered out from exploring the Night\Shift landscape?
Not so fast: Soak up some audio sunshine provided by J Collective , The Fugitive Minds (pictured) and DJ Miss HerBassShifts .
For Night\Shift, the Pyrus crew are creating a safe, intimate party place with two reggae bands and an incredible D – we're putting the Dub in K-dub!
PLUS: Cafe Pyrus is participating in the inaugural Night\Shift Hot Drinks Taste-Off challenge – their entry is called the Spicy Soul Sipper, and they're describing it as a "spicy dance party for your mouth." Buy the $9 Hot Drinks Taste-Off Passport in advance – supplies are limited! – and pack your travel mug to stay warm during #niteshift14.
SHARE
More sites
Cafe Pyrus (16 Charles St. W.)
Open at 7pm for Hot Drinks passport holders + Groove from 10pm to 3am!