Recast the city landscape as a riotous choreography of live animation, projection and sound.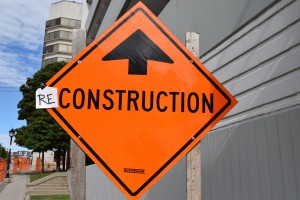 Put on a hard hat and grab a Sharpie as your tool to redraw 'city blocks' into the imaginary configurations that feel better put together.
Do you want to be an architect? A builder? A graffiti artist? Come play a role and h elp Mobile Art Studio redecorate and redesign the King Street corridor of our dreams and literally play with the idea of transformation at this pop-up performance installation out front of Kitchener City Hall.
Mobile Art Studio believes in the value of participatory art practices as a means of urban community building that brings creativity into public spaces. MAS treats art-making as a vital practice and believes that increased access to art materials and making practices can encourage and expand public discussions of lived experiences within our cities.
Revisit this pop-up performance installation as it creates an interactive sculpture of Kitchener-Waterloo full of road blocks, construction signs and public interventions made by you. Once you've built the landscape you want, Instagram it and tell us why you love it @mobileartstudio to keep the conversation going.
SHARE
Corner of King & Young (in front of City Hall's East Wing)
Sat Nov 5th \\ 7pm-1am