Join us on Wednesday, September 24 at 10am at 157 King St. W. for the official release of the NIGHT\SHIFT 2014 lineup.

The second annual NIGHT\SHIFT festival is ecstatic to announce its plans to animate 40 indoor and outdoor venues in downtown Kitchener with performances, installations and acts of participatory creativity on Saturday, November 1st, 2014. Councillor Dan Glenn-Graham will join festival director Eric Rumble on Wednesday, September 24 at 10am at 157 King St. W., Kitchener, to highlight the official release of the one-night-only event's 2014 lineup.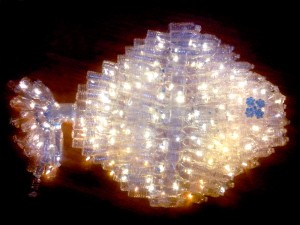 This year's participatory activities will also include a handful of pre-festival collaborative events that will contribute to NIGHT\SHIFT attractions and interactions. Events planned for late September and throughout October include the chance to create masks and small shrines, to carve enough Jack-o-lanterns to fill a downtown park and to help construct oversized aquatic creatures out of discarded single-use plastic bottles .
"We're hoping to enable more community building at NIGHT\SHIFT 2014 by crowdsourcing a few festival attractions," says Rumble. "I want to establish NIGHT\SHIFT as a recurring opportunity for locals to be involved in reimagining the raw possibilities of their city and its social spaces. The intention is that everyone and anyone can express their own creative thinking alongside some great programming from an amazing lineup of diverse professional artists and placehackers."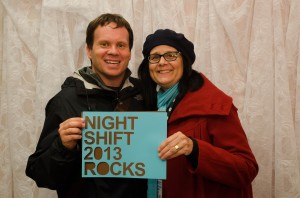 Last year's inaugural NIGHT\SHIFT festival drew more than 3,000 participants to observe and interact with contributions from more than 50 artists in 20 downtown Kitchener locations, including parks, parking lots, alleyways, streets, small businesses and cultural institutions. The communal nocturnal adventure festival's landscape is designed for walkable exploration of great public and private spaces, and to peel back the layers of creative talent in Waterloo Region.
Explore details from NIGHT\SHIFT 2013:
storify.com/alternativesj/night-shift | nightshiftwr.ca/media
Follow our ramp-up to NIGHT\SHIFT 2014:
facebook.com/NightShiftWR | twitter.com/NightShiftWR