Catch an amateur jam session, then watch CCE interview Night\Shift explorers + Hot Drinks Taste-off!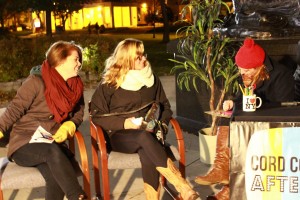 So, what the heck do all those acronyms stand for?
CMSWR is the Community Music School of Waterloo Region, which provides music lessons to local youth who would not otherwise have access to instruments and formal training. Students and alumni will come together a kick off the night with an hour-long casual jam session between 7 and 8pm.
CCE is the Cord Community Edition , a vital K-W media voice out of the WLU Student Publications umbrella. (They're collaborating with CBC-KW to profile the different wards in advance of Waterloo Region's Oct. 27 election right now.) CCE will be interviewing random Night\Shift explorers from elsewhere in the festival landscape on Sat., Nov. 1st, and their live feed will be broadcast inside QSCC from 8pm until late.
QSCC is the Queen Street Commons Cafe, a fabulous and essential Working Centre project. They'll also be participating in the inaugural Night\Shift Hot Drinks Taste-Off challenge – their entry is called Candy Apple, a salted hot apple cider mixed with homemade caramel sauce. Buy the $9 Hot Drinks Taste-Off Passport in advance – supplies are limited! – and pack your travel mug to stay warm during #niteshift14.
SHARE
More sites
Queen Street Commons Cafe (43 Queen St. S.)
CMSWR student jam: 7 to 8pm; CCE live broadcast from 8pm to late