A visual trip into
the taking apart, restitching, reformatting and reanimation of place.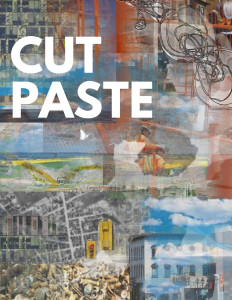 CUT+PASTE is a pop-up projected video installation and viewing space in an unconventional downtown spot (or at least unconventional outside of Night\Shift). The moving pictures in the work will form a 10-minute video loop devised of photography, mixed media, collage, painting and illustration linked through both digital and analog animation and layering techniques. Using imagery from both local settings, found print and digital sources, and other layering ideas, CUT+PASTE makes a playful and abstract commentary on the constant renegotiation of living with construction.
Collaboration is a key element of the work. Allie Brenner's abstract animation and video will feature visual contributions made by several local artists, including Ellie Anglin, Alex Lobraico and more!
Allie Brenner \\ alliebrenner.com
Ellie Anglin \\ ellieanglin.blogspot.ca \\ thewaterloser.tumblr.com
Alex Lobraico \\ vimeo.com/50494477
SHARE
Goudies Lane (between Ontario and Queen streets)
Sat Nov 5th \\ 7pm-1am