A modern retelling of Mennonite-Amish martyrdom with music and live projection art.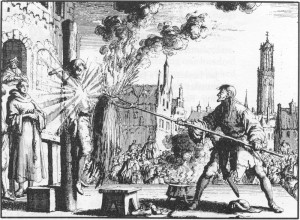 The Bloody Theater , also known as Martyr's Mirror , is a collection of stories about Anabaptist martyrs. It was first published in Holland in 1660 and historically was an important text in Mennonite and Amish communities, including the Region of Waterloo. Dan Root and Meg Harder , both of Mennonite-Amish backgrounds, are interested in critically reinterpreting stories found within this text through folk music and illustrated projections that speak to contemporary issues and diverse audiences.
Their collaborative performance will feature an original song composed by Root making its début at #NightShift16, accompanied by live illustrations created by Harder and projected from behind a simple white sheet.
SHARE
In the basement of Adventurers Guild (36 Ontario St. N.)
Sat Nov 5th, 10-minute shows at 8, 9, 10 & 11pm