Whew. What a ride. And whether you strapped in for all of Night\Shift 2016 or just caught a whiff of its vapour trails, I hope you saw or heard or happened upon an experience that helped you to peel back a fresh layer of downtown Kitchener.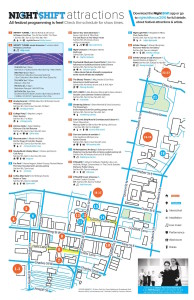 This year marked the fourth Night\Shift Placehacking Festival. It reimagined 18 downtown spaces with 23 original pieces of programming, some with many moving parts, and featured contributions by more than 40 multidisciplinary artists. A buffet of 20 musical acts played, led by 5 nights of live sounds under the same roof as the interactive INFINITY TUNNEL installation. And – finally blessed with good weather – it brought a wide range of people out in droves on an otherwise hibernation-prone Saturday night, exploring the core on foot to find connection, intrigue, inspiration and something unknown.
Applying Night\Shift's fort-building mentality to a 12-block slice of big/small/indoor/outdoor/public/private spaces again in 2016 was only possible because of the festival's support network. The rest of this post is mostly about them. But first and foremost: Thanks to everyone who came out this year and supported Night\Shift with your ears, eyes, feelings and feet.
Night\Shift's largest, longest standing and most dedicated partner, the City of Kitchener, played a handful of essential roles over the last eight months or so. The City's Tier 2 community grant ( 2017 due dates are Dec 2nd !) provided the seed funding that sparked 2016 festival planning, and the in-kind portion of that contribution would supply vital pieces of the production puzzle, from promo printing services to custodial, security, crew and sound tech support. Supervisors and employees of the City's parking, operations, facilities, bylaw, security, risk management, arts & creative industries, special events and downtown development departments worked with the festival to reimagine spaces while ensuring the safety, easy flow and amusement of festival-goers. Most importantly, the City continually proves that it believes in the festival's placehacking mission and has given it both the boost and breathing room it has needed to thrive since 2013.
And because the project that took over Kitchener City Hall's rotunda at the 2016 festival offers a neat illustration of the City's willingness and ability to foster strangely beautiful artistic disruption, a huge thank you needs to be beamed at Dylan Reibling and the crew he assembled to present 24-Hour Dolly . The Toronto-based filmmaker's day-long single-take shot of a minimalist stage that is open to anyone captured the overlapping poetry of that iconic public space and so many of the faces and presences that have a stake in it. Its gorgeous, slow-burn profoundness is all over this early cut:
#NightShift16 's other marquee placehack completely transformed a 20' stretch of a 2nd floor hallway at 44 Gaukel St. – the former Canada Post building across from the bus station, which currently houses a mix of Accelerator Centre-sponsored hardware startups with local art-making and culture-igniting organizations. The INFINITY TUNNEL was hatched as a guided collaboration between two highly skilled Kitchener artists (and long-time contributors to the festival), sculptor/clockmaker/technologist/tinkerer Bernie Rohde and painter/designer/optical illusion enthusiast nik harron (who is also responsible for creating Night\Shift's visual identity). The result was a spectacularly simple otherworld of distorted mirror reflections and sound-triggered light strips that could morph into an abyss of immeasurable hallucinations when lit up by music. The INFINITY TUNNEL recast a plain institutional hallway as something weird, lovely and a little intoxicating.
Thank you to nik and Bernie for your vivid imaginations, your sweat equity, your time and wisdom, and for layering in a bunch of amazing sound-responsive video projections into the live music shows during the week leading up to Saturday, Nov 5th, 2016. Thank you to the Region of Waterloo Arts Fund for being intrigued and compelled enough by the potential of this idea on paper to grant Night\Shift the money to pay for materials, space usage and the artists' wages – your mandate to make art happen is deeply appreciated, not least by the festival-goers who were spellbound by the INFINITY TUNNEL. Thank you as well to ArtsBuild Ontario and the Accelerator Centre (and all of their tenants) for allowing your office space to be turned into a super trippy music venue for a week – and please have as much fun as you can in the tunnel while it remains installed!
Perhaps the most obvious programming change in 2016 was the inclusion of much more live music in the Night\Shift landscape. In part this was steered by the INFINITY TUNNEL project; in part it flowed from my personal interest in experimental sounds, and in particular the idea of pairing them with other artists' experimental visuals; and in part it hinged on a sponsorship agreement with the Downtown Kitchener BIA , which turned out to be a pillar in this year's production plan. So many thanks to the BIA for investing in the festival's offbeat vision for downtown spaces, and for trusting that the musical lineup would be unlike any other (in a good way).
And it's true, it was. I'm incredibly proud of the bands and individual performers who were talked into playing the festival (and thankfully some needed no convincing). To the acts who poured or ploughed their songs into the INFINITY TUNNEL, thank you for being so adaptable and daring. Thank you to Friendzone Collective and Admission of Guilt concert series for plugging even more intrigue and range into 44 Gaukel's performance roster , and in particular thanks to Misha Marks and Nick Storring for being first to take on that seizing psychedelic beast – I couldn't have asked for a more perfectly weird and dynamic duo to do the christening. And because everyone else did rad things with that space too, a round of thank yous to Jsun Collective, Man Made Bear, New Zebra Kid, Ziibiwan, Eiyn Sof, Badminton Racquet, WHOOP-Szo, Charlena Russell, Blunt Chunks, Bjorn Borg Collective, Versa, IC/JC/VC, Spooloops & ZumOne!
There is one more fabulous person whose gargantuan contribution to the festival needs some keystrokes before moving past the INFINITY TUNNEL… Greg Osborne spent four straight nights at 44 Gaukel turning an awkward stretch of office corridor into an awkward, immersive trip elsewhere that sounded absolutely great. Greg nailed sound production for an array of setups and musical styles, and looked after all the musicians like a champ, as he always does. He also went out of his way to make sure I didn't lose my shit during a couple of make-or-break moments behind the scenes. You rule, Greg – I couldn't have pulled any of this off without you there.
Up next: another fresh crop of thank yous to the other musical performers! Soren and Roan, I'm so grateful for the snippet above of you two drone-zoning a room full of mind-boggling Burtynskys , as my Nov 5th ass-hauling brought me back through KWAG's doors at the exact moment Mooons ' lovely gloom was dissipating in the main gallery. And I also got sidetracked on my way to catch Meg Harder and Dan Root 's The Bloody Theatre in The Guild's already spine-tingly basement, but I heard the show was killer (and packed for all five 10-minute runs).
The noisemakers I did get to see slayed me. Jennifer Castle and Aaron Mangle , thank you for braving the bright lights of the stacks and letting your sparks fly. Annie, Becky and Sarah of GlassEYElashes , thanks for giving a lift to another Hamiltonian musician on your way to charming that same heart-stopping room of Burtynskys. And thanks to Ted Harms and Neil Ballantyne for reanimating the old county jail yard with a mystical sound experience – and for bringing the amazing Misha Marks to Kitchener to kick off the festival!
There are too many more contributing artists and performers to thank individually for the ideas they brought to Night\Shift 2016, but I do want to recognize a few particular folks who made gestures that went well beyond sharing their creativity with a random crowd of festival-goers.
Green Light Arts : thank you for your consistent flexibility and self-sufficiency, and for trusting that everything would land where it needed to when it did.
Mobile Art Studio : thank you for taking on a timely local issue in a playful way, and for self-funding a solid piece of programming in a tricky spot.
Allie Brenner : thank you for literally going extra miles to help promote the festival on the idiot box, and for guiding a collaborative project (with Ellie Anglin & Alex Lobraico ) that kept the festival's streak of recreating Goudies Lane alive and well!
Kate Cox: thanks for opening up The Guild's basement for The Bloody Theatre , a project that I was still trying to find a venue for until mid-October, and an ask that I sprung on you with pretty much no time to consider it.
Trevor Waurechen : thanks for showing up twice a week for the whole month leading up to the festival to build your life-sized comic strip on the windows of the Mercury Cafe – and for being the person who responded to the exciting possibilities of that unconventional canvas in the call for proposals.
As much as Night\Shift relies on a range of artistic tangents to come to life, it also needs venue providers who are willing to get out of their comfort zones. Thanks to the owners of Mercury Cafe (and Apollo Cinema) for letting Trevor take over your windows. Thanks to both KPL and KWAG for letting your large, iconic gathering spaces be filled with live music. Thanks to Cafe Pyrus and Matter of Taste for bringing your own programming ideas to the table and for continuing to include your businesses in the festival landscape year over year. Thanks to the Walper for accommodating ideas that may or may not disrupt your guests for the sake of supporting artistic expression! And thanks to Craig Beattie of Perimeter Development for again letting your carport hold a weird installation made by local postsecondary students.
And while the festival's bread and butter may be creative contributions and the spaces to make them in, a few local businesses also gave financial support to cover the festival's invisible, inescapable and administrative costs. A special thanks to Zehr Group , Communitech , Scotiabank's downtown branch (and Brad Farrows in particular) and Erb & Erb for putting money on the table to pay for things like volunteer appreciation, insurance coverage, accounting fees and hot drinks for festival-goers. Likewise, thanks to Community CarShare for making wheels available when things couldn't be done on foot.
Just a few more doses of appreciation to go… Thanks to the nine local tech companies who jumped at the opportunity to reimagine an old acoustic guitar as a team-building exercise. The DTKreAXE project seemed like a smart and multi-layered idea in theory, but it wasn't until picking up the remade guitars that there was proof in the pudding. And thanks as well to Bob Egan for supplying all of the otherwise unsalvageable guitars.
There are other volunteer contributors who also need shout-outs, although typing their names doesn't nearly capture the boost provided by their efforts. Emily Shelton, thanks so much for reaching out to me and spending a extra hours staring into a computer screen trying to describe the DTKreAXE project for the festival blog, and for cranking out first drafts of the bulk of 2016 programming blurbs – I'd have been even more disheveled without your wordsmithing. Allie Gingrich, you did an amazing job of amping up two of the festival's social media channels on a daily basis for nearly two months, and thanks for anticipating so many promotional needs and for being the most consistently reliable volunteer involved in this year's festival. David Harmes, thanks for doing so much to try and involve Conestoga College students in promoting the festival, and for trying to make me believe that meeting for beer is the same thing as actually getting things done (it's not). Kayla Landry, Jackey Ouellette, Émily Traichel & Tiffany Danko, thank you for helping me herd all of the other volunteers – and thanks to all of the other folks who donated a few hours of their time to making the 2016 festival a success!
And I also need to mention the Night\Shift Placehacking Festival's board of directors, who've been generous with their expertise and confidence since joining the organization in summer 2015. Shirley Madill, thank you for always responding on a dime with brilliant input – the challenging choices that an upstart needs to make would be so much trickier without being able to draw on your deep experience. Marc LeCompte, thank you for helping to shape this year's most excellent musical lineup (even while you're already preoccupied with bringing incredible entertainers to uptown pretty much all the time). Victoria Kent, thank you for filling in whatever gaps you could with gusto, from billeting a touring musician to providing hot drinks for festival volunteers to offering up your van for whatever running around was needed – and even more thanks for lighting a fire under this year's festival crowdfunding campaign.
Speaking of which, one more huge thank you to everyone who reached into their own pocket to make a donation to this year's festival (so far):
The Yeti \ Graham Whitefish \ Adeel Khan \ Princess Café \ Emily Robson \ Inspirations Dancewear \ Shirley Madill \ Nathan Vexler \ Jason Stotesbury \ Sarah Goldrup \ Frank Seglenieks \ Michelle Purchase \ Kayla Zawiski \ Dan McCormick \ StylFrugal \ Dana Decent \ Lauren Weinberg \ Catherine Bischoff \ Tony Salomone \ Wendy Weinberg \ Andrew Korell \ Mary Chevreau \ Janice Lee + 4 more anonymous donors
The festival's GoFundMe is also still active, so please PWYC if you had a blast at #NightShift16: www.gofundme.com/nightshift16
Also, almost lastly, if you've already read this far, please take a few more minutes to let us know how this year's festival grabbed you ! goo.gl/forms/xN1C1aOYwPGjOepr2
Eric Rumble, Night\Shift festival director & founder
PS: thanks again to everyone who came out from Nov 1st-5th to HELP #Placehack #DTK!