A collaborative challenge that reimagines old guitars as multimedia canvases.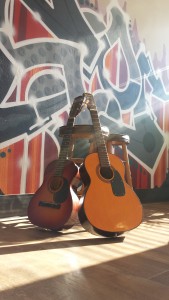 Tech companies have a lot in common with guitars. Both have an untold potential for ingenuity. They create leaders who can draw a crowd. DTKReAXE brings both worlds together. Teams from 10 Waterloo Region tech companies have accepted a mission: use their brain power to reinvent a humble, unusable acoustic guitar body. Think: overlaid tech-infused masterpieces, 3D-printed landscapes from other galaxies, or the acoustic guitar's iconic shape reimagined as an alien creature.
Teams from these 10 local firms have stepped up to the challenge: Vidyard , NetSuite , Plasticity Labs , Lani , InkSmith , Bridgit , Communitech , InTheChat , Accelerator Centre & Sortable . Guitars have been donated to this creative collaborative project by Bob's Guitar Service – unsalvageables from 2015's 100 Guitars for 100 Kids campaign – and their inspiring remakes will be on display at KPL 's gorgeous central branch during the whole month of November. The DTKreAXE exhibit opening at #NightShift16's main event on Saturday, Nov. 5th will feature live guitar-based performances in the main lounge and the chance for festival-goers to help communally redecorate a few more retired acoustic bodies.
SHARE
Kitchener Public Library (85 Queen St. N.)
Exhibit on display in November 2016 + opening party on Sat Nov 5th \\ 7pm to midnight