Proof that helping remix downtown Kitchener on Saturday, November 1st is totally, gleefully doable with the kids in tow.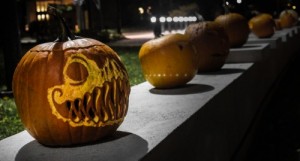 Start by giving your ghoulish Halloween gourd one last chance to spook the community by bringing it to the Jack-o-lantern flash mob at Civic Centre Park! Night\Shift volunteers will be at the park between 4 and 7pm to collect, arrange and illuminate as many lawn-haunters as possible (we want at least 100!), so please plan to drop yours off (and tell your friends) – it'll look so much better with a huge crowd of other carved creations than unceremoniously tossed into your green bin.
Head across the street to Centre in the Square and inflate a wish or idea at Frog in Hand's Balloon Room interactive installation, located in the back studio. Performances by this fabulously talented dance company (plus Brockenshire Lemiski on guitar and looping pedals) don't begin until 7pm, but the idea is to gradually accumulate balloons with the help of Night\Shift explorers and to improvise in response to people's wishes, building up to a midnight popping ceremony!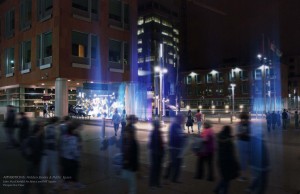 Two ideas for killing time before the 7pm festival kick-off: 1] Go have a gander at KW|AG's current exhibits, featuring the late Lynne Cohen's stunning, often eerie photographs of empty rooms – each one packed with plenty of inspiration for the Poetry Slam Decathlon that will roam the gallery from 8pm until the wee hours.
2] Head to City Hall and check out the final assembly of Apparitions ' two pop-up outdoor theatres and Creatures of the Gyre , a series of oversized aquatic creatures made with more than 6,300 disposable single-use plastic bottles.
Begin your official festival crawl at Queen Street Commons Cafe, where students, alumni and instructors from the Community Music School of Waterloo Region will host a free-flowing casual performance from 7 to 8pm .
From there, cruise up Queen St. to the Duke Food Block and snap a photo with Drew Ripley & Community CarShare's Popping Car Culture , which aims to blow up conventional perspectives about the automobile by crafting a full-sized one out of hundreds of balloons!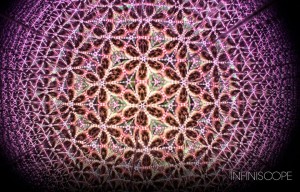 From here, you've got options every direction… Just a few steps away is Goudies Lane Arcade , featuring an oversized Lite Brite created by Kwartzlab, three sets of giant Jenga and nik harron's InfiniScope and KING PONG . Or go to Halls Lane and make your mark using a quill or reed pen at (Un)Written History . Or hoof it up Frederick St. to the YWCA-KW and help redefine beauty with a little bit of DIY creativity . And from there it easy to circle back to where you began and see how the deluge of balloons and Jack-o-lanterns have redefined the Centre in the Square studio and Civic Centre Park!
There are plenty of other options too – Night\Shift 2014 features more than 40 indoor and outdoor one-night-only attractions . Plan your nocturnal adventure now and invite your friends and family along for the trip!